What's the deal with Cuba?
There is no place like Cuba. Nowhere even remotely similar. Cuba is a mindblowing experience to most visitors. Many fall in love with the country, most are deeply fascinated with the country, but few to no tourists leave with any real understanding of the country. In fact, most leave more confused than when they arrived.
Because everything in Cuba works in its on way. The social fabrics of Cuba are more complex than probably those of any other country on earth. There's no way a tourist can understand even half of it in a short visit.
By using someone with decades of experience in Cuba, you can take a drastic shortcut; cut away all the tourist crap, give a complete miss to all the tourist traps on the tourist-trail, and skip right to the heart and soul of Cuba.
In other words, let us help you take safe steps outside the theatre that most tourists end up in. The Cuba off resort and off the tourist-trail. Where 'real' Cubans live, work, walk and talk. Where the dancing is not set up for tourists, where the smiles are real and don't cost tips, a layer or two inside the great onion that makes up this magnificent place called Cuba.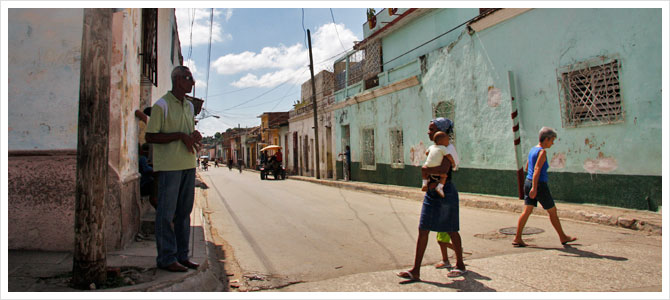 Cuba is Havana. Cuba is beaches. Cuba is small towns far away from the highway. Cuba is mountains, plains, rivers, jungles, blue skies and beautiful sunsets. It's big city noise and bustle, deserted white sand in front of turqouise waters, it's mountain hiking, street parties and everything in between. And yes, Cuba is also salsa, cigars, rum and vintage cars, but that is tourist brochure Cuba, let us help you take a step or two beyond the stereotype.
You can have it all your way. If you like nature, we'll show you where to find the most stunning experiences. If you like exploring cities, we'll take you to parts of them where you'll be the first tourist to ever shoot a photo. If you like beaches, we'll send you to the best of them. And be happy to pick you up there if you get the urge for some time in the big city.
Cuba is a country that most Cubans don't fully understand, so it's no wonder that even foreigners who have lived there for years, don't understand it all. We don't claim to know every grain of sand, and there are streetcorners we have not stood on yet. But instead of starting from zero, you can make use of the decades of footwork we have put in.
Why? Because you don't want to come home with 8 photos of the beach, 9 photos of vintage American cars and 5 photos of the same 2 buildings in Havana that every other tourist who has ever done a daytrip to Havana also shot.
We love Cuba. With everything it does to try and hide its soul from us. Let us help you scratch beyond the surface, start peeling layers off the huge onion that makes up this country, and get to know Cuba in a way that few tourists will ever do. Let us help you fall in love as well.