U.S. Cuba travel (embargo)
Cuba is no longer an impossible dream for Americans. Hundreds of thousands Americans are visiting Cuba this year. Cuba is a warm, welcoming country and despite the long embargo the U.S. has had against Cuba, there is no animosity what so ever from Cubans towards Americans. Traveling to Cuba has never been easier and while recent thawing in relations have bettered relations between the two countries there is still a tourist travel embargo in place. However the U.S. government is not enforcing it, and has not done so for nearly a decade.
Here is the very short version of U.S-Cuba travel if you do not care to read all the details:
1. Tourist travel to Cuba is illegal for U.S. citizens and permanent residents. Americans can visit Cuba under 12 legal categories of travel.
2. Nevertheless, thousands of U.S. citizens arrive in Cuba every day on tourist trips.
3. Not a single fine has been given for U.S. tourist travel since 2007. Nobody cares and nobody keeps an eye on what U.S. citizens do in Cuba and whether they comply with rules of traveling under those 12 categories.
There is no physical license, no piece of paper. Any U.S. citizen can board any one of more than a dozen daily charter flights to Cuba crossing out a legal category to travel. There is no documentation needed or asked for. U.S. citizens are trusted to know and make sure themselves that their visit to Cuba is legal. Nobody checks.
Example: 'Religious purposes' is a legal category. If you believe (and nobody says you can't start today) in the afro-Cuban santeria religion, you can legally visit Cuba tomorrow crossing out that category. Same goes if you are Jewish and want to see a synagogue in Havana. Or if your uncle went to Cuba in 1986 (who would know) and had a a Cuban girlfriend you can fly to Cuba next week to try and track down your Cuban cousin under the 'family relations' category.
We get a lot of requests from Americans wanting to make sure their tourist trip to Cuba is legal. That is not possible. But all evidence shows that there is not a single soul in the U.S. adminstration who cares about this. This is 2015/16 status under the Obama administration.
This is the very short version. Please continue reading for the detailed version.
- - - - -
UPDATE 19.1.2015: We are receiving dozens of mails daily from U.S. citizens asking how they can visit Cuba. There are basically two ways that U.S. citizens visit Cuba:
1. 'Legally' under one of 12 categories of legal travel. The most obvious one being family relations. A physical OFAC license is no longer requiered in advance, but an affidavit must be signed before boarding the charter. No documentation required or asked for.
Direct flights can be booked with a number of U.S. travel agencies who can also provide you with the tourist card (visa) in advance.
2. Via a gateway country, which has been the way an estimated 50,000 to 70,000 U.S. citizens with no Cuban blood or family in them have visited Cuba for many, many years. Not a single U.S. citizen has been fined for traveling to Cuba this way for tourist purposes since 2007. Popular gateway countries are Canada, Mexico, Bahamas, Cayman Islands and to some extent Jamaica and Panama. Tickets can be bought with U.S. credit cards, even with the national Cuban carrier Cubana who charge through a Spanish agency. Find flights with non U.S. flight search engines such as momondo.com, skyscanner.ca and others.
Summary of U.S.-Cuba travel after recent changes from the U.S. Department of the Treasury published Jan 15th, 2015: CLICK HERE
- - - - -
UPDATE 1.1.2015: Despite recent positive diplomatic developments between USA and Cuba, the tourist travel embargo (while not enforced since 2007) is still in place. A lot of U.S. citizens are asking us if they can now legally travel to Cuba. Short version is that the U.S. are now officially looking to get rid of a tourist travel embargo that they effectively do not enforce anymore, since not a single U.S. citizen has been fined for unlicensed travel to Cuba for almost 10 years.
- - - - -
An estimated 50,000 to 70,000 U.S. citizens (of non-Cuban ancestry) have been visiting Cuba every year independently BEFORE the December 2014 thawing of relations between the U.S. and Cuba. That was despite of the ongoing and seemingly never ending U.S. travel embargo.
In 2015, after the thawing, an estimated 200,000 to 250,000 U.S. citizens (not counting Cuban-Americans) visited Cuba. In 2016 that number will likely be somewhere between 300,000 to 500,000.
American tourists to Cuba basically have two options:
1. Joining one of the licensed people to people tours from the U.S. Which means going on a tour with a group and a 24/7 tour guide and following a predetermined program that one can never stray from. These licensed tours usually cost between $3000 and $5000 per week.
2. Booking with an independent organizer. Choosing freely between hotel or casa particular, going on tours hand picked by yourself, basically seeing the Cuba you choose to see. There are various organizers for independent U.S. tourists, usually based in Canada, Europe or on site in Havana. With us, such a tour can be put together down to about $500 per week. All payments made with non U.S. affiliated processors.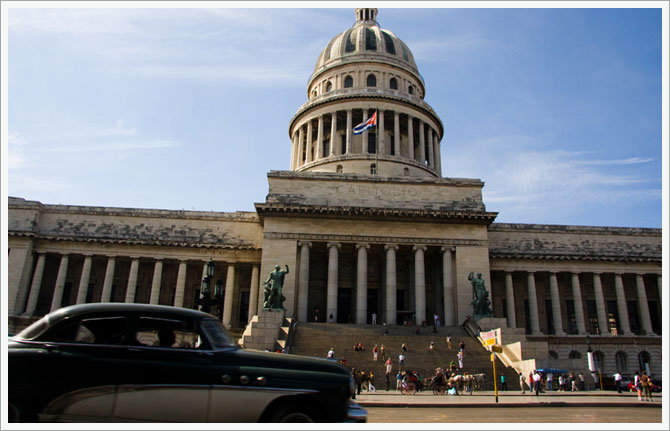 Cuba welcomes American tourists with open arms. There is not the slightest trace of hostility towards Americans among the Cuban population, if anything they are eager to talk to and get to know Americans. They see the old dispute between Cuba and USA as an issue between the governments of the two countries, not as an issue between the people of the two countries.
Most U.S. citizens are overwhelmed by the reception they receive in Cuba and amazed that there is a country so different from their own so close by. Cuba and USA are indeed two very different planets, and it's a life changing experience for many Americans to visit the island. But Americans also need to realize that Cuba is a place to see something completely different. Do not expect Las Vegas standards. Do not expect a high level of service. Do not ask for king size beds at all accommodations. If you're looking for luxury, there are loads of better destinations. If you are looking for old world charm and to see something very different, there are no better destinations close to the USA than Cuba.
For the unlicensed traveler popular U.S. gateways to Havana are: Toronto - Canada, Cancun/Mexico City - Mexico, Nassau - Bahamas, Cayman Islands, Jamaica, Dominican Republic, Panama City. See flights to Cuba.
For the licensed traveler, there is now a number of U.S. airports operating direct flights to Cuba. These can only be boarded for licensed travel though. Travelers need to sign an affidavit with the charter company operating the flight stating under which of the 12 legal categories they are traveling. Some of the more popular are 'family relations' and 'religious purposes'.
These categories are so vague that just about anyone can fit under them.
Finally, keep in mind that the embargo is strictly on the U.S. side. Cuba treats U.S. citizens like any other nationality, meaning there are no special requirements or documents. U.S. citizens, like all other nationalities, must enter with a tourist card. How to optain the tourist card depends on how you are traveling to Cuba:
- If flying direct with a charter, the charter company issues your tourist card.
- If flying via Canada, the tourist card is handed out either at check-in or on board the plane and is included in the ticket price.
- If flying via any Central American or Caribbean gateway the tourist card is purchased at the counter or near it. This goes for most South Americans departure points as well.
- If flying via Europe, Asia, Australia etc. the most common way of optaining the tourist card is via the local embassy or consulate.
We are more than happy to assist U.S. citizens in arranging a trip to Havana or a tour around Cuba. Send us an e-mail and we can work out everything according to your wishes for the perfect trip.
A few words from recent U.S. clients
"Cuba is amazing. It was like being in a movie set for 10 days. Yourowncuba made us a perfect itinerary and while I don't think it's normal in Cuba everything simply went like clockwork from the minute they picked us up at the airport. We spent 10 completely unforgetable days in Cuba and I hope I get the chance to go back. I also hope other Americans will treat Cuba with the respect it deserves. I hope Cuba stays special, also for Cubas sake.
- Scott Hanson & Mike Keating, Los Angeles
"We've been wanting to visit Cuba for years, but never went because of the embargo. As it seems the embargo might outlive us, we finally got in contact with yourowncuba and they arranged everything. We had a full itinerary made out, were picked up at the airport, spent two weeks in this amazing country and came home with no issues, no stamps in our passports, no questions asked by anybody, but with two suitcases full of amazing memories."
- Maggy and Chris, Georgia, Alabama
"Thanks you guys for an unforgetable trip to Cuba. I can't believe there's a world like that right on the doorsteps of the U.S. I had a fabulous time there and can't thank you enough for arranging everything. Even though I used a variety of your services and had you guys arrange it all, I am sure everything would have been 10 times as expensive booking it all myself. I loved the photo tour of Havana, what an astonishing city to take photos in. I'll go back within the next 2-3 years for sure, and will definitely contact you again next time."
- Frank Robertson, New York City