Study tours to Havana - or anywhere else in Cuba
Take your friends, colleagues or fellow club members on a study tour to Havana. Impress them by presenting them with a schedule that will blow their minds - and yours.
Cuba is a world of its own. With a wealth of cultural, artistical, musical, architectural and historical options. It is the perfect destination to take your study, hobby or professional occupation to the ultimate level. We can arrange study tours for any number of days or weeks.
Whether you want to dance salsa with the best, dive into colonial architecture in one of the most important colonial settlements in the world, go nuts on Caribbean modern art, learn the ins and outs of Cuban daily life or simply learn to play the drums or the guitar like a true Cuban master, we can set you up and custom make the ultimate itinerary for you. And those are just examples: If Havana or Cuba has it, we can find it.

Architecture, art, music, dance, globalization, communication, sociology, geography, history, health and medicine, Cuba has an interesting angle on almost any imaginable topic.
Take architecture for instance; Where else in the world can you study the finest Spanish colonial architecture in the morning and Miami Mafia sponsored 1930's art deco splendor, hotels and casinos just five minutes after? Not to mention the unrestored parts of Centro Habana where you can study something no place can offer: The effects on 400 year old colonial buildings when not painted or restored for half a century...
Any kind of combo-tour is also doable. The sky above Cuba is the limit. Spend 3, 5 or 7 days in Havana studying, then head to the beach and relax - at an all inclusive hotel or your own private rented villa. Or head onto another town in Cuba to get a taste of laid back provincial Cuba. Maybe even a place that can add a new angle to the tour you did in Cuba.
Architecture study tour example: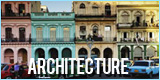 Contact us to start custom making any kind of study tour. There are too many topics for us to mention all the fields of interest/study out there. But if Havana has it, we can organize it.