Cuba tours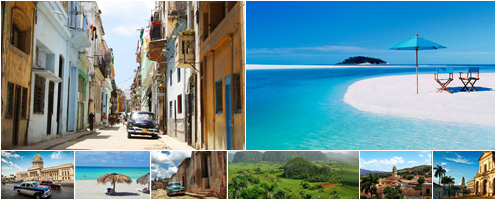 Our selection of ready-made Cuba packages offering the best of Cuba combined in easy to understand tours where you make the basic and most important arrangements with us and do your own transfers and meet guides on location. Lots of time on your own and no traveling in groups.
The best compromise between traveling completely alone with nothing arranged and traveling in a big group with no room to improvise. Our tours are about seeing Cuba with your own eyes, experiencing the country and meeting its fabulous people. We call it 'self-guided' tours, we hope you'll be calling it the best trip you ever had.
All tours can start any day of the year. Most start with an airport pick up as your first service with us. So the only thing you need is a plane ticket. With that in hand, let us handle your in-bound trip and help you have the best possible trip to Cuba.
Examples of full tour packages
Tours that cover your entire stay in Cuba starting from the minute you land.
Simply count the number of nights on your plane ticket and pick the tour that suits you

Tour 01 | CITY, NATURE & COLONIAL

The best of Western Cuba including Havana, Viñales, (Cienfuegos) and Trinidad
8-15 nights

Tour 02 | CITY, COLONIAL & BEACH

Big city, colonial charm and world class beach including Havana, Trinidad and Varadero (All Inclusive)
8-15 nights

Tour 03 | HAVANA PLUS

Big city special, Havana with tours and daytrips
4-9 nights

Tour 04 V1 | CITY BEACH TWIN CENTRE

Big city and big sun splitting your time equally between Havana and Varadero
with the Varadero section being in an all inclusive resort
8-15 nights
Tour 04 V2 | CITY BEACH TWIN CENTRE

Big city and big sun with a few days in Havana, more of them at the resort
and on the beach in Varadero
8-15 nights

Tour 05 | ORIENTE
Eastern Cuba including Santiago, Baracoa, Bayamo and Holguín
8-15 nights

Tour 06 | THE COMPLETE CUBA TOUR

Cuba covered including Havana, Viñales, Trinidad, Santiago, Baracoa and more
17-25 nights

Tour 07 | CUBA HORIZONS


Car, casa, breakfast and wheels. Explore Cuba in your own car
Minimum 7 nights
| No set number of nights. Any amount from 7 and up. Tour is individually tailor-made |


1-7 day tours from Havana (or from Varadero)
(when you already have Havana covered on your own and when our resources are not tied up doing full tours)

Tour 10 | Viñales

Visit the famous lush limestone valley where the finest tobacco is grown
1-4 nights

Tour 11 | Trinidad

A break from reality in the colonial pearl of the Caribean coast, UNESCO protected Trinidad
2-5 nights

Tour 12 | Nature & colonial

Rural beautiful Viñales and amazing colonial Trinidad
3-7 nights

Tour 13 | Colonial & beach

A trip down to the colonial pearl of Trinidad followed by a few days on the beach in Varadero
5-7 nights


HAVANA PHOTO TOUR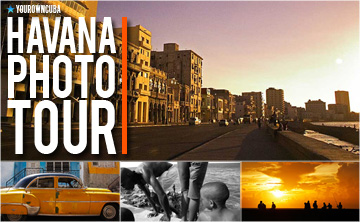 5 day photographers dream tour of Havana. 10-12 tours each year. Very small groups of maximum 4 people.
5 days
Contact us for private photo tours organized just for you, any amount of days that suits you.

CUBA SELF-DRIVE / CAR, CASA, BREAKFAST
Car and pre-arranged accommodations. Off you go.
No set amount of days, but we recommend a minimum of one week.
Contact us to set up your self-driving trip to Cuba.

Put together your own tour, any length of time and including any locations you would like, guided walks, tours and drives on location at your convenience for a service fee of
$99 for 1-2 px | $149 for 3-4 px | $199 for 5+ px
Get started today by sending us an e-mail and let us know what type of tour you want arranged

Dont hesitate to ask us any questions you might have.