Group tours to Havana - or anywhere else in Cuba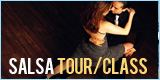 Havana is a myriad of cultural, artistic, musical, architectural and historical options. It is the perfect destination to take your hobby or professional occupation to the ultimate level. We can arrange group tours to Havana and anywhere else in Cuba for any size of group and for any number of days or weeks.
Whether you want to dance salsa with the best, dive into colonial architecture in one of the most important colonial settlements in the world, go nuts on Caribbean modern art, learn the ins and outs of santeria and get in touch with your santo or simply learn to play the drums or the guitar like a true Cuban master, we can set you up and custom make the ultimate itinerary for you. And those are just examples: If Havana or Cuba has it, we can find it.
Take you and your friends, colleagues or fellow club members on a tour to Havana. Impress them by presenting them with a schedule and meetings that will blow their minds - and yours.
Group tour examples
| | | |
| --- | --- | --- |
| TYPE OF TOUR | DETAILS | PRICE IN US $ |
| 5 day salsa, beginners | Learn all the basics with Cuban dance partners | From $200 |
| 5 day salsa, advanced | Perfect your salsa with Cuban dance partners | From $200 |
| 2 weeks intensive salsa classes | Learn all the moves with Cuban dance partners | From $350 |
| Play Cuban guitar, drums, bass etc | Beginner or experienced. ready for your own bolero? | From $150 / week |
| Learn Spanish | From beginners to advanced, 5 days to 5 months | From $100 / week |
| 5 day Architecture tour | In depth study and tour of colonial architecture | From $600 |
| 5 day art tour | Know all the local painters and galleries | From $500 |
| Study tour | Put your study into perspective colonial style | From $300 |
| 5 day Photo tour | A photographers ultimate dream week in Havana | From $900 |
These are only examples of some of the more popular group tours we arrange. Whatever your interest is, just send us an e-mail and we can most likely work it all out.
Any kind of combo-tour is also doable. The sky above Cuba is the limit. Spend 3, 5 or 7 days in Havana studying and living out your hobby, then head to the beach and relax - at an all inclusive hotel or your own private rented villa. Or head onto another town in Cuba to get a taste of laid back provincial Cuba. Maybe even a place that can add a new angle to the tour you did in Havana.
The only two limits to what we can work out for you is your fantasy and what exists in Cuba. If it exists in your head and can be found or done in Cuba, we can put it together for you.