Clients Feedback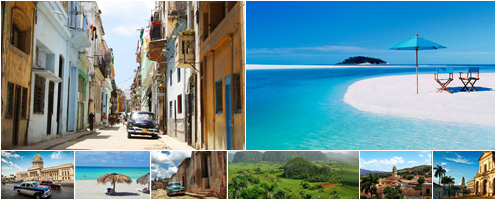 Hi Frank,
I'm truly grateful for everything that you and everyone in Cuba did to make my trip such a wonderful adventure!!! I will always remember Cuba, and more importantly, I will never forget your kindness and patience. Please tell Manuel how much I appreciate his hard work and patience as well. I wish all of you the very best!
Warmest Regards,
Kirk
Single traveller on Photo Tour from USA

Hi Frank,
I just wanted to thank you for organizing such a wonderful trip for me. All of us truly enjoyed the trip and are quite pleased with our experience. The only problem I would say we had, is that we didn't have enough to time in Cuba.
I have already given out your website to many people, whom I work with. I am sure they will have the same wonderful time that we did.
Thank you again.
Robyn
4 airline crew from USA

Hi Frank,
we are still in Mexico for a couple of days on the beach ,
We all loved Cuba and most of all the Cuban people ,we are going home with great memories, and with hope that Cuba will not change too much in the future ,thanks so much for all your help.
And the tour guides where very nice and had lots of information and history of Cuba , I will Recommend your tour company to all my friends, thanks again

Family of 5 from USA

Hi,
My husband and I were on the Havana photo tour in April and loved every minute. We had a wonderful tour guide. She was so easy to work with and gave us such a thorough tour. We saw things that we never expected to see. .............We were so happy with all of the arrangements that were made through "Your Own Cuba" on our last trip. We don't want to work with anyone else.
Thank you.
Candy

I had emailed Tomas a couple of years ago, but was unable to go at that time. When I emailed him again, his father, Frank, answered me and arranged everything. Manuel is the man on the ground in Cuba, although I never met him (I did talk to him after my passport was stolen and he immediately arranged to have a driver meet me first thing in the morning to take me to my embassy - which wasn't needed as my hosts at Deysi Casa looked in every garbage bin for 8 blocks and found my passport). Frank was very responsive and helpful.
Single traveler, Vancouver, Canada

Hi Frank,
I enjoyed Cuba very much. Especially thanks to driver Papito, guides Annelisse and Leyanis. I am still have a trouble adjusting to the time difference.
About photo, as I told I am a professional photographer. So I can give you photo after release my photo to the public.

Thank you for all about in Cuba.
Han
Singapore

Dearest Frank,
We have the utmost respect and admiration for you
Happy Holidays, and best wishes for a great new year. We will highly recommend your company, and we'll be in touch when we return to Cuba.
Be well, good man.

J. Malta

Dear Frank,
Thank you for the nice words, and for the huge support, we received from you in the last months.
I cannot imagine how could we organise our trip without you.
I cannot imagine how could we organise our trip without you.
Kindest regards
Tamas - Hungary

Hi Frank,
Sorry for the late response, it was a hectic week at home and in work.
Cuba was great and I want to thank you for your help in making this happen and your recommendations were great! so thanks!
Send my thank to Manuel, he was very helpful with any issue we had.
It was great trip very unique and different, our daughters enjoyed it very much and met some new friends in one of the casas.

Thanks!
Tamir
Atlanta, family of 4 from USA

We have only just come back.from 3 weeks in Cuba...we were a party of 8 pax..and our trip was arranged by YOC...infact i had already booked and paid a deposit to Tomas before he passed away...eventually i managed to contact Frank who is Tomas's father and he together with Manuel who is their representative in Cuba...sorted everything out for us....at first i was a bit sceptical to continue with our reservation because of the circumstances and also as i had not dealt with these people before...
All i can say is that they were fantastic and all the itinerary we had finalised was kept to the letter....5 days Havana,3 days Vinales,3 days Trinidad,7 days Varadero...airport transfers guides etc...i would not hesitate to book with them again
Woodhut, Malta
On TripAdvisor

My wife and I just returned from 12 days in Cuba and we used yourowncuba to arrange our trip. Everything that was on our itinerary happened just like it was suppose to. If our transportation or activity was scheduled at 10 am for example they were there on time and in most cases 15 or so minutes early. All of our casa stays were in very nice accommodations with a private bathroom and air conditioning. We had private transportation between the cities that we traveled to and all of our drivers were professional and nice. We didn't have to pay for anything that was included in our quote and no extra payment was ever expected by anyone (guides, drivers and casa owners). I would highly recommend yourowncuba. Frank and Manuel and everyone they use in Cuba were great. Any questions you can message me here privately and I would be more than happy to help.
Couple from USA
On TripAdvisor

Hi Frank,
We had a wonderful time in Cuba and made some new friends with the Cuban people we stayed with and have memories that will last a life time. Everything on the itinerary ran like clock work and was great. The only problem we had was with our transportation from Vinales to Cienfuegos. The original driver had a problem with his car and we ended up having to be driven all the way back to Havana by our Casa owner in Vinales to get our taxi. We lost a whole day because we were suppose to get to Cienfuegos around 11 am and didn't arrive to after 18:00. Also the Casa in Cienfuegos wasn't up to the same quality that we had in Havana, Vinales and Trinidad. I will make sure to write a positive review on tripadvisor so that others will know what a great company you are running. I will personally recommend yourowncuba.com to anyone who wants to travel to Cuba. We will return to Cuba again because we enjoyed it so much. Thank you for everything !
Robert (USA)

Hi Frank,
We had a wonderful time in Cuba! YourOwnCuba did a great job and we want to thank you for all of it. I appreciate your answering all of our questions at the beginning and helping us set up a trip that was perfect for us. Everyone came on time or early and the tours were wonderful. In particular I want to thank you for our Casa and for our tour guide... both were exceptional! If you could give us their names (spelled correctly) we would be glad to thank them personally and post all on tripadvisor or other places.
Thank you again. Our son is traveling on with his wife and two others and I think that what they learned about Cuba during the first part of their trip will help them with that part as well.
Best wishes and thanks again. We will be sure to refer our friends to you.
Family of 4 Santa Barbara, California, USA

Hi Frank,
Thanks for all your help and expertise on our trip to Cuba.
We loved Havana and Trinidad - Could have done without Varadero.
There was great people, culture and beautiful places to see in Havana.
Everything happened right on time or early which was good.
I thought I would send you a few comments from our trip that may help you in the future with your business.
1- Some sort of understand of where the money was going and what each thing cost.
2- We were the first guests in both of the casa stays. We loved our hosts but I wonder what the experienced hosts are like.
3- Our guides were amazing! Thank you for that. It would have been nice if our car ride could have been flexible because we got stuck in the rain the whole time.
4- On our first morning for the walking tour we had to pay for a taxi to get from our casa to old town. That seemed weird since transportation was supposed to be covered.
5- Our last taxi didn't know which terminal to take us to and ended up dropping us off at the wrong one. Not a big deal but a hassle.
I attached a small photo of us in Habana!
Thank you again!
Melissa (couple from USA)

Hi Frank,
Thank you Frank. We had an amazing trip in every way and will be recommending your company to anyone we might know who will be visiting. I appreciate your help and your follow up.
Sincerely,
Sean and Cheryl (USA)

Hi Frank,
We had a wonderful experience in Cuba and thanks to you and your team, all the arrangements for drivers, homestays, excursions, etc were terrific. All 4 of us felt that we really needed more days as it was a bit too short. The good news is, that we can return! I called Manuel early in the morning to thank him as well for all the arrangements. We shall recommend your company to others and go online to trip advisor to add positive comments to all the homestay people. Let me know if there is another way to promote or help you with raving reviews.
Regards
Lorna (USA)

Hi Frank,
We had a blast! Thank you so much for all you did to organize such a well thought out trip to Cuba! After being in Cuba, we can appreciate all you did to bring it all together with so many moving parts. Thank you also for providing the jazz fest info… it was very helpful.
As a side-note, Manuel was great… he very easy to work with. Our Havana host Daisy was an absolute angel! She was helpful and went above and beyond to coordinate extra salsa classes and help us navigate around town. She really made our trip special. Our primary taxi driver, Juan Miguel, was also great! He was on time each and every time and helped us navigate around Cuba to other hot spots.
Many sincere thanks Frank! Overall, the trip was a success and we wouldn't hesitate to book with YOC or recommend YOC to others interested in a cultural experience unlike any other.
Pics to follow :
SM (USA)

Hi Frank,
First of all I want to say thank you for planning a wonderful itinerary. Everyone was great, professional, helpful and on time.
I especially want to say thank you to Deisy and her lovely family for taking us in and making us feel at home.
We all fell in love with Cuba, and it's people. Such wonderful, loving, giving people.
As for US Customs, I was very surprised that we were asked nothing other than the usual questions you get when you come from any other country abroad (how many days we were in Cuba). That was it. So everything went smoothly.
Thank you again for everything!
Oma. Family of 4 (USA)

Hi Frank,
We had a fantastic holiday in Cuba. We were very impressed with how well the tour was run and how friendly the Cuban people were.
Our only problem we had was our flight from Havana to LA was cancelled and we had to stay an extra day in Havana. Because of this we arrived home in Australia 2 days late.
Many thanks once again for a well organised tour.
Regards,

Paul
Australia

Hi Frank,
I just got back yesterday and The trip was fabulous as were the people, casa owners, tour guides etc. Everything went perfectly and without a hitch. Most of the drivers and tour guides were on time if not early. I used to be fluent but haven't spoken Spanish in 30 years but I remembered enough to communicate and translate when we had a driver or casa owner (Hector) who didn't speak English. Hector sat with us after dinner for close to an hour and we communicated enough that we understood what he did before he started the casa, why he retired, etc. The driver for the tobacco tour, Ramon, didn't speak English and with Jhandi translating, we had a lively and jovial conversation over a beer at the end of the tour at the entrance of a cave. Everything that Frank promised was delivered. We paid about half upfront and the rest in cash the morning of our first full day in Havana. I spent 3 days in Havana, one in Vinales, three in Trinidad, and our last day back in Havana. I highly recommend Your Own Cuba.
On TripAdvisor

Hi Frank,
I really enjoyed the trip. The accommodation was good. Quiet, clean room and bathroom and Vladimir and Graciela were great and very accommodating to my timing of breakfast and coming and going.
Leyanis was also great. She was knowledgeable and our group worked well with the other 3 guests.
I'm thrilled with my pictures and very happy I booked through YOC. Drive to and from airport worked really well.
Thanks for all.
Kate
Canada

We spent 13 nights in Cuba (Havanna, Vinales, Cienfuegos, Trinidad, Varadero). Casa particulars, 4 star Hotel (Varadero), Rental car and guided tours (Havana by walk, havanna with oldtimer, Trinidad by walk, Rainforest tour). Everything was booked by YOC. We had to pay around 40% upfront in USD/EUR, and the rest in Cuba in CUC. During the booking process, Frank was friendly and sometimes cruelly honest about Cuba. I would suggest everyone, that do not go there with the same expectations as during a West-European vacation. This is Cuba, and you will feel it everywhere in country, and maybe you will love your tour and love Cuba because this country is completely different then the rest of the world.
Accomodations were excellent. We had AC and own bathroom everywhere. All of the tours were well organized. The guides and Manual were also very friendly. We learned a lot from them.
The rental car business is really an issue in Cuba. We were lucky to get a car (actually a bigger one then we paid for), but we heard lot of troublesome stories. YOC notified us this can be an issue, and they offered the taxi transport, but we refused this option, because we would like to have the opportunity to travel when and where we wanted. Sometimes it will not pay off, be careful.
I would warmly recommend YOC for everybody how want to see the real Cuba. They can offer you lot of options, you can really choos what and how you want to see.
If you have concerns or question, please feel free to send me your questions.
On TripAdvisor

I had been to Cuba before (in 2016) with a tour group, and was really looking for something tailored to my individual needs/wants. YOC provided just that! I spent 24 nights in Cuba (Havana, Vinales, Cienfuegos, Trinidad, Camaguey, Santiago de Cuba, Baracoa, Holguin, Santa Clara). Casa particulares, taxi transport, photo tour in Havana, and some guided tours were all booked/arranged by YOC. I had to pay about 10% upfront in USD/EUR, and the rest in Cuba in CUC. The booking process through Frank was smooth.
YOC had chosen wonderful casa particulares for all my locations, all were in very convenient locations for exploration by foot, and I had AC/fan and own bathroom everywhere. All of the transportation was flawless. The drivers showed up on time, and were careful drivers. I felt in good hands. The tours were well organized. All of the tour guides were very friendly, but some of the city tour guides were better than others. But this last impression might also be influenced by how much I already knew about a place beforehand.
My photography guide in Havana was a true delight, and the week with her exceeded my expectations.
I would warmly recommend YOC to everybody who wants to individualize their trip. YOC offers a lot of options to pick and chose from.
On TripAdvisor

Notes on recent Cuba visit, especially regarding YourOwnCuba
My wife and I returned from a trip to Cuba a few days ago. For half the time, we used an AirBNB accommodation in Havana (Havana Dream run by Ventura and his mother Nancy), which I highly recommend. And I made our daily itinerary and parador reservations myself, some that I will review on TripAdvisor. However, here I mostly want to point out the excellent experience we had with YourOwnCuba, which we used as I lacked the time to do the detailed planning for the remainder of our travels to Las Terrazas, Soroa, Viñales, Trinidad and nearby national parks and valleys. As usual, I tried to find reviews before going with YOC, but the only detailed one was a quite negative review put out on the Lonely Planet Forum nearly a year ago. That almost stopped me, but I decided that I would be clear with Frank from YOC about exactly where we wanted to go and what we wanted to see and do; perhaps more important, we understood clearly that our trips would not include anyone else besides a guide or driver. In our email exchanges, he was always prompt, clear and honest (as it turns out). We were pleased with every single driver or guide we had. Without a single exception, they arrived at or before our appointed times, they were informative, super nice, and very much wanted to accommodate us so that we would enjoy our visit to Cuba. Air-conditioned accommodations we had were all clean, if simple, and they were well-situated for us to walk around to see sights or go to restaurants, which I generally selected after getting TripAdvisor reviews prior to traveling – internet access in Cuba being so poor. The proprietors of each place were also very lovely people. In short, I would gladly stay again in each of those casas particulares. Finally, I should point out that the price paid for what we got from YOC was quite fair. As a last word: I have traveled in 139 countries in the world, but this first trip to Cuba convinced me that Cuba is one of the very best places on earth to visit.
On TripAdvisor

Your Own Cuba is hands down the most incredible tour organizer I have ever worked with. The owner, Frank, is the kindest, most accommodating man on the planet. My parents had never traveled before so they were very worried and had millions of questions - Frank answered every question thoroughly, responded to all emails promptly, and worked with me to build the perfect itinerary for our trip. I could not have asked for a better experience - both working with Frank to plan the trip and the trip itself, of course!
Once in Cuba we were in the very capable hands of his trusted in-country team, and we were blown away by how wonderful everyone was. Every tour, every guide, every accommodation was just perfect! Everything was arranged and taken care of ahead of time - all we had to do was show up! And everything went off without a hitch. Your Own Cuba is a small company so everything feels very personal. I cannot put into words what a wonderful trip we had and how grateful my family and I are to Frank and his team. They truly created the perfect trip for us!
On TripAdvisor

I totally agree with your comments having travelled to Cuba in January 2017 and experienced Frank and his team's organization down to the smallest detail.

I would recommend YOC to anyone travelling to Cuba.

Woodhu
mosta
On TripAdvisor

We had a very positive experience. The owner, Frank, arranged for our transportation, tours with guides, made reservations at restaurants. We told him what we wanted to do and how much we wanted to spend and he made it work. I highly recommend Your Own Cuba!
On TripAdvisor

I just wanted to thank you personally for the wonderful days Bill and I spent in Cuba. Annelisse, Bel and drivers (Pedro and Orlando) were wonderful and accommodated our needs. I was so happy to visit beautiful Cuba again, although it was way too short a stay. Each time I travel there, I feel Cuba is a part of my heart and soul. If we have the opportunity to return one day, we most certainly will contact you. Thanks so much for everything! Please pass on my thanks to the guides and drivers.
Carla F
USA
On TripAdvisor

The owner's father, Frank, is now running everything. We just returned and had a fabulous experience. I would highly recommend.
Debra F
On TripAdvisor

I could not agree more with every word having just come back from two weeks in Cuba. The success of our holiday was all down to Frank and his team. A friend who had travelled there last year told me about Your Cuba and how Frank had worked with them to create a great itinerary so of course l contacted him. Working with him, telling him what we would like to see and do he guided us to the perfect two weeks holiday. Our lovely drivers were waiting for us promptly and drove us around carefully. The knowledgable and friendly guides were always there ready to show us a Cuba we would never have experienced by ourselves. The places we stayed were just the kind of places we hoped to visit and with Franks expert knowledge we stayed the right amount of time before moving on. The Casas were well chosen and run by friendly helpful owners. I cannot imagine going to Cuba without Frank helping us to make the most out of our two week stay. We raised a glass in thanks to Frank each evening for another brilliant day under the Cuban sun.
2 friends,
Scotland
On TripAdvisor

YOC and Frank are a 100% guarantee for a memorable holiday in Cuba..i can vouch from my own experience with them after having booked with Tomas and paid him a deposit..after his tragic passing Frank contacted me ,explained exactly what the situation was and from then on till we arrived in Cuba and also after was in contact with us to make certain we had a flawless holiday.
Frank and his team went way over their duty ...would use and recommend YOC any time.
Ray, Malta
On TripAdvisor

I recently used Your Own Cuba for a 10 day trip to Cuba. The whole trip was expertly put together and organised by Frank, we just gave him a list of the places we wanted to visit and a rough budget and he was able to put together a comprehensive itinerary very quickly. All the casas chosen were excellent and we had good drivers and guides throughout. Really impressed with Your Own Cuba and would definitely use them again/recommend to others.
Jane
London
On TripAdvisor

I just returned from my second trip to Cuba with YOC. The first was a photo tour in Havana in 2016 with Leyanis as our guide and this recent one was solo with Annelise. Both trips were amazing and both guides were wonderful. Everything went smoothly. After my first trip I wanted to return for another photography tour but felt comfortable traveling alone. Frank created an itinerary based on some areas that I wanted to revisit and others that were new to me. But one of the things I really like about YOC is the flexibility - it was easy to tweak the schedule once there based on what I was interested in doing. I spent some time each day on my own exploring the city but with Annelise as my guide I learned a lot more about the city and culture.
Highly recommend YOC!M.
Andrea,
USA
On TripAdvisor

Hi Frank,
Thank you. We are well home after an extraordinarily nice holiday.
Cuba is something special. A smiling, dancing, approachable people, who, in spite of limited money have a fantastic way of approaching life. A culture and a historic trip "spiced" with nature experiences, snorkeling, waterfalls etc. The tour has throughout been very well organised - thank you for your big effort.
Cuba is something special. A smiling, dancing, approachable people, who, in spite of limited money have a fantastic way of approaching life. A culture and a historic trip "spiced" with nature experiences, snorkeling, waterfalls etc. The tour has throughout been very well organised - thank you for your big effort.

A continued great summer to you and your team.
Best wishes from Anne & Co.
(family of 5 from Denmark)
On TripAdvisor

Thank you Frank. Our flight was on time and fine. Our holyday was great in Cuba. Wonderful land and Nice people! Thank you for arranging our vacation. I Shall tell it to other people, that you arranged it very good.
Greets Marjan, and also for you and family a very good new year.
Family of 5 from Holland / The Netherlands

Dear Frank, thank you and your colleagues for a very special trip. We had an excellent time, and it all worked out well -- we didn't do as much sight-seeing as we had hoped, but that was because we came down to Cuba tired. We particularly appreciated your guides -- the three women who assisted us -- they were charming and intelligent and knowledgeable. My wife teaches English, and all three of your guides were involved in English language instruction, so they had a lot to talk about. We particularly liked the guide in Havana (Leana, I think).
Peter,
Canada

Thank you for your message. I can confirm we arrived back on our home town late yesterday evening.
Our group have all provided me with very positive feedback on our time in Cuba. We believe you created an itinerary which gave us a genuine insight into Cuba and Cubans.
I am especially grateful you were able to arrange all accommodation, tours and transfers – all of which came to fruition - when promised! Having experienced Cuba to a very small degree, I am most impressed as this would appear to be no mean feat!
Thank you again for your kindness and assistance with our tour.
Cheers,
Roy
(group of 8 from Australia)

Husband and I had a wonderful tour through your organisation and I would like to give you a good review so that others can understand what you do and have you plan a trip for them. If we come back to Cuba we will certainly contact you again and ask you to arrange our travel.....we would never have found ourselves in so many interesting places without your planning. Best wishes.
Robyne / middle aged couple
Australia

Hi Frank,
I promised you feedback, so here goes ...
Pre travel information
Could not have been better. You were very efficient and could not have been more helpful.
Itinerary Enjoyed the guided tours, the car in Havana, the horses in Viñales and the trip to the waterfall. All really great activities.
Casas
Some much better than others.
Baracoa was excellent. I will attach a photo! Carmen was the very best host. She went out of her way to make us welcome.
Trinidad was lovely. As was Viñales, Cienfuegos, Camaguey, Santiago and Holguin. Santa Clara wasn't as nice I'm afraid... just a bit tatty to be honest.
To sum up: all the Casas were good, some very good but the last one in Habana was disappointing - for your future reference perhaps?
Transport
The transfers were good. We are so glad we went for the car from Baracoa to Holguin and not the bus via Santiago!!!
Viazul....... interesting experience.... I'll say no more!
Highlights
Seeing Habana by open top car!
Viñales- beautiful place, even though it rained the day we were there. We would have liked another day.
We loved Trinidad and would have liked to stay longer there too.
If we did it again ...
With hindsight, we would have spent three nights in Habana, three in Viñales, four in Trinidad and then found an island !!!
Of course, having said that, we would not have felt that we had really seen Cuba, which we can truly say we have!
We met some great people and had an amazing experience.
Thank you for being a great facilitator
Two friends
UK

Hi Frank,
Just want to thank you for the great experience. Everything was perfect and everyone was amazing: Mario from the casa, the tour guides in Havana and Viñales, the drivers.. everyone!
Will definitely leave a super review on TripAdvisor and will recommend YOC to my friends!

Thanks again
Solo traveller
UK

Hi Frank,
We are back in the states and we want to thank you for providing us with a wonderful experience in Cuba. The people, the places we stayed, the tours...everything was beyond what we expected. I will be posting on trip Advisor when we get home next weekend but I wanted to be sure you knew how much we enjoyed our time in Cuba. Perhaps we will go back some day and will certainly do it with your agency! Thank you!! Pat
A couple
USA

Hi Frank,
Looking for tour company to arrange independent tour of Cuba UPDATE: We just returned from a 10 night visit to Cuba organized by Your Own Cuba as recommended by someone on this forum. Thank you for the recommendation! We had a wonderful experience with no problems the entire time. We stayed in casas that were comfortable, well located, had great breakfasts and very friendly and helpful hosts. They made some restaurant reservations for us in Havana and all of them were very good. Transfers between cities were on time, local guides were great and we also had plenty of time to explore on our own. Frank always responded quickly to our emails when we were organizing the trip. I do not hesitate to recommend this agency to folks who don't have the time or inclination to organize a trip on their own. I thought the price was reasonable compared to organized group tours I looked at. Yes, we could have done the trip on our own, and now that we have been to Cuba we would probably be comfortable doing that but we really feel like we got good value for our money. We had a great experience and we loved Cuba!!
OTR,
Wisconsin
On TripAdvisor

Hi Frank,
We arrived back to the UK 2 days ago.
We had a fantastic holiday, thank you, Manuel and your team! You all have done an amazing job, everything worked like a clockwork. We were really impressed by this.
Let us know if you would like is to leave a review for you and your team on any websites, we are more than happy to do that because it is well deserved.
Again, thank you, Manuel and your team very much for everything.
Many thanks,
Kristian
3 friends from Hungary, living in the UK

Hello Frank,
Our trip to Cuba was wonderful and overall we are very pleased with the arrangements.
The program was followed as planned and lived up to our expectations plus more. The contact with Manuel was efficient and accommodating. We were impressed with how punctual everything was. The two guides arranged by Manuel were very knowledgeable, spoke English proficiently and were pleasant. We actually had two salsa instructors as I was hoping we would get and they were very professional. The hotel we chose was very charming with a good strategic location which we would recommend to future customers.
Only a few minor comments would be: 1) changes in the schedule were not communicated to Manuel regarding the time change of our salsa lesson. 2) a clearer description of the guided car tour would help future customers to make a better informed decision as we opted to actually doing that once we understood that it was more than just driving around in a car and that there is a chance to actually stop at the different sites. 3) Also good for future customers to know that they each get their own salsa instructor as it is actually common among other online sites offering private salsa lessons.
All in all, we are very satisfied with our trip and we would be happy to leave a positive feedback online if you like.
2 friends
Sweden

Thanks Frank,
We are currently in the Bahamas back home next week. We live in Perth on the west coast, and thus are not effected by the fires.
Cuba was a great experience for us.
In relation to YOC our views are.
Excellent guides throughout. Ernesto and Louis in Havana and Uday ( this name is wrong but the best I can do) and Julie in Trinidad were all excellent. Made a big difference to our trip.
The schedule was generally good.
Cienfuegos was a good stopover, Trinidad was superb, Santa Clara was not worth the hours in the car that day. Havana, on arrival only 1 vintage car not 2 as promised, day 2 perfect, disappointment was the cigar factory and rum museum closures on day 3 (YOC comment: last minute decision by authority).
With Vinales the tobacco farm on day 1 was good. Horse back riding was just to another farm although we really enjoyed inter acting with farmers.
Notwithstanding this we had a fantastic trip and do expect issues to arise.
Thankyou for organising the trip.
Regards
Andrew/family
Australia

Hi Frank,
I'm sorry that I've been so slow to respond! We had a really wonderful time in Cuba. The itineraries suited everyone well, and the two guides we got to know, Elena and Luis, were both delightful. In fact, I'd love to send a thank-you note to Elena, if you would be willing to either give me her email address or pass my address to her. (Or, I could send her a message through you and Manuel.)
In terms of suggestions, I don't have too much to say. It turns out that the itinerary for last Friday, the day we spent time in Vinales before driving home, was too tight and we didn't go to La Terrazas. You might have more success if you schedule the caves for first thing in the morning, right after they open. We ended up wasting some time there because they had already lent out all their safety helmets. Also, you probably should let visitors know that the climb up is somewhat strenuous. Aside from that, if a friend asked me about my trip, I would recommend they do something like what we did, with some minor changes based on what I know now.
Mostly, we so appreciated the warm welcome that we felt from all the Cuban people we met! Thank you, again, for the itinerary you developed and for making it so easy to plan a trip to Cuba!
All the best,
Jess. (family of 6 from USA)

We had an amazing time and are grateful for such a wonderful experience in Cuba and it's wonderful people. I would have to say that the tour arranged by Your Own Cuba exceeded our expectations. Everything was organized and ran smoothly and everyone was professional, courteous, on schedule, and on time.
Absolutely zero problems or delays. Frank did a terrific job in arranging everything for us. We absolutely loved Vinales and Trinidad and Havana and especially staying in the paladores (private homes). We had private rooms in a bed and breakfast type arrangement. The owners were amazing and very helpful.
There were no problems arriving or leaving the island…..no formalities or interrogations by Cuba customs or upon reentering the U.S. I highly recommend Your Own Cuba for an incredible tour at an exceptional value. I can not praise them highly enough.
PointdeVue12
On TripAdvisor